When you have set your registry to Military, you are subject to rules of engagement based upon your faction's stances toward the others. Firing upon Civilians or Rookie pilots in regulated space is punished harshly. Engaging other Military pilots is encouraged if your factions are Hostile, but discouraged in regulated space to progressively greater degrees if your factions are Neutral or Friendly with each other. There is never a penalty for engaging and eliminating Pirate scum.
Pilots of other factions who are intruding by conducting opposing military missions against your own faction, or who are aggressively tuning beacons in your faction's controlled space, become legitimate targets regardless of present factional relationships. You may typically identify these interlopers by their military flight registry, and by their behavior, such as conducting espionage near friendly buildings or raiding ore depots. Monitor their behavior with care, and be certain of your target, or you may be penalized for an illegitimate kill.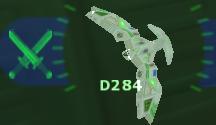 Ships flying under military flight registry are marked in your HUD with a traditional "crossed-swords" icon in the color of the faction to whose military they belong.